Services & Facilities
Leonardo Laura Beach & Splash Resort is one of the most vibrant and fun-filled destinations in Paphos. The waterpark offers visitors a wide variety of activities, there are dining options galore, and the entertainment programs designed to keep boredom at bay guarantee the Cypriot vacation of your dreams. The spa at Leonardo Laura Beach & Splash Resort offers a comprehensive wellness journey, and our youngest guests will love all the amenities and facilities designed for their pleasure. Our weekly entertainment programme features live shows, concerts, karaoke, and disco nights. Join us for summer memories that last a lifetime.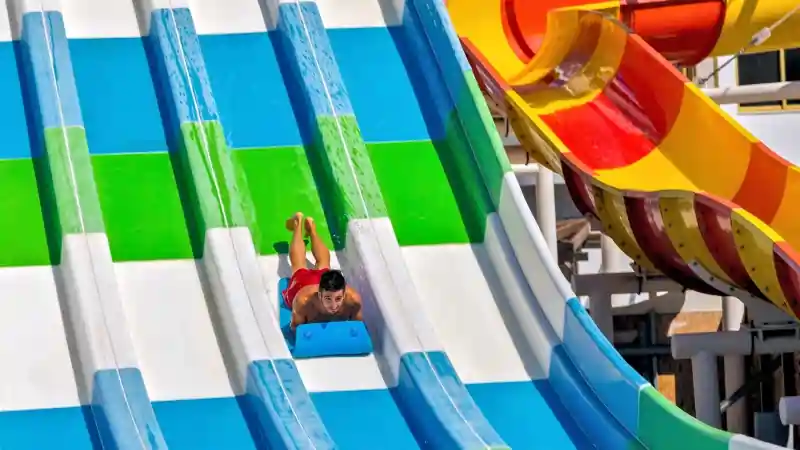 Splash Waterpark
Our most celebrated attraction, the Splash Waterpark is the main reason many people pick Leonardo Laura Beach & Splash Resort as their favourite summer vacation destination on Cyprus. The choice of slides is enough to lure both daring and more conservative guests. With activities for all ages, as well as lifeguards watching over all the pools and slides, the waterpark is a thrilling family-friendly adventure. You'll have fun all day, and, when hunger strikes, the Splash Snack Bar is a good stop for a quick bite. Keep in mind that, for your safety, the Splash Waterpark closes under adverse weather conditions.
Spa Moments
Escape to the peaceful Ocyan Spa & Fitness Centre at Laura Beach & Splash Resort by Leonardo Hotels Cyprus to enjoy full body treatments, a pampering massage, or any bespoke therapy you need to relax. The spa offers exclusive treatments for him and her, plus a wide range of invigorating spa packages, traditional and warm stone massages, waxing, makeup, facials, hairstyling, signature manicures and pedicures, and lots more. You don't always need to book a treatment to enjoy the spa: just come in to soak in the hot tub, or to take in the health benefits of the sauna. Whenever you feel like treating your body like a temple, we are there for you.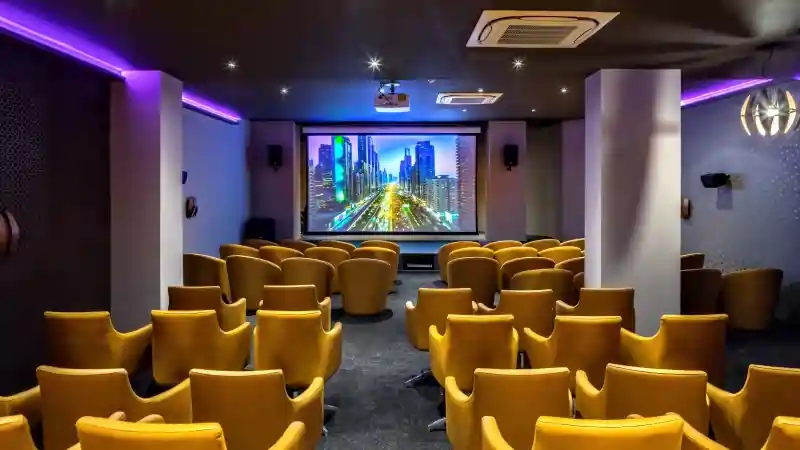 Lumiere Cinema
Fans of the art can enjoy the experience of a film in a cosy theatre several times a week. Blockbuster movies are shown 3 times daily, 7 days a week and are catered for all ages.
The Lumiere Cinema features films for all ages that are shown throughout the day. With state of the art equipment, 80 seats, and thrilling surround sound it is an ideal escape to get away from the sun.
Note: No extra charge.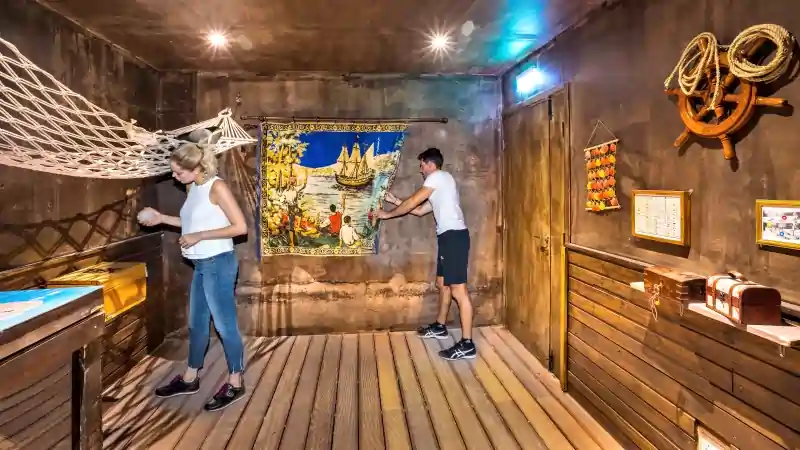 Escape Rooms
Leonardo Laura Beach & Splash Resort is the only hotel is Paphos that has Escape Rooms Games. Lockdown Paphos is an hour of interactive, immersive entertainment where players will be required to work together to recover secret codes, messages and keys by taking part in entertaining logical challenges, in a mission to get out of the room before the 60 minutes are up.
Our games are perfect for families, groups of friends, staff parties, birthdays, wedding groups.... basically everybody!
Note: Charges apply.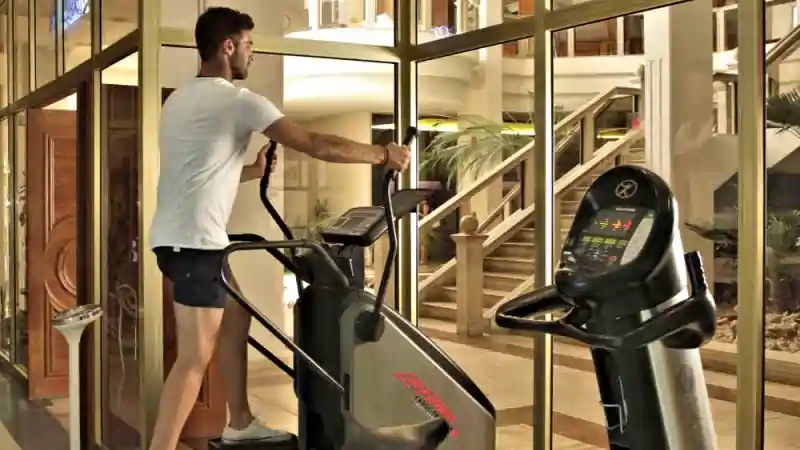 Fitness & Fun
Balance out your island holiday with a gym session at Ocyan Spa & Fitness Centre. The Health Club at Laura Beach & Splash Resort is equipped to help you keep in shape for the whole duration of your stay. We have professional trainers to assist you too. If the gym is not your thing, you can still enjoy sporting activities like tennis and ping pong, aqua aerobics, yoga, Pilates, scuba diving, beach volleyball, archery, swimming, and much more. All these dynamic pastimes are available at the resort. Beyond our doors, there are golf courses, ranches offering horseback riding tours, a shooting range, and a wide variety of water sports.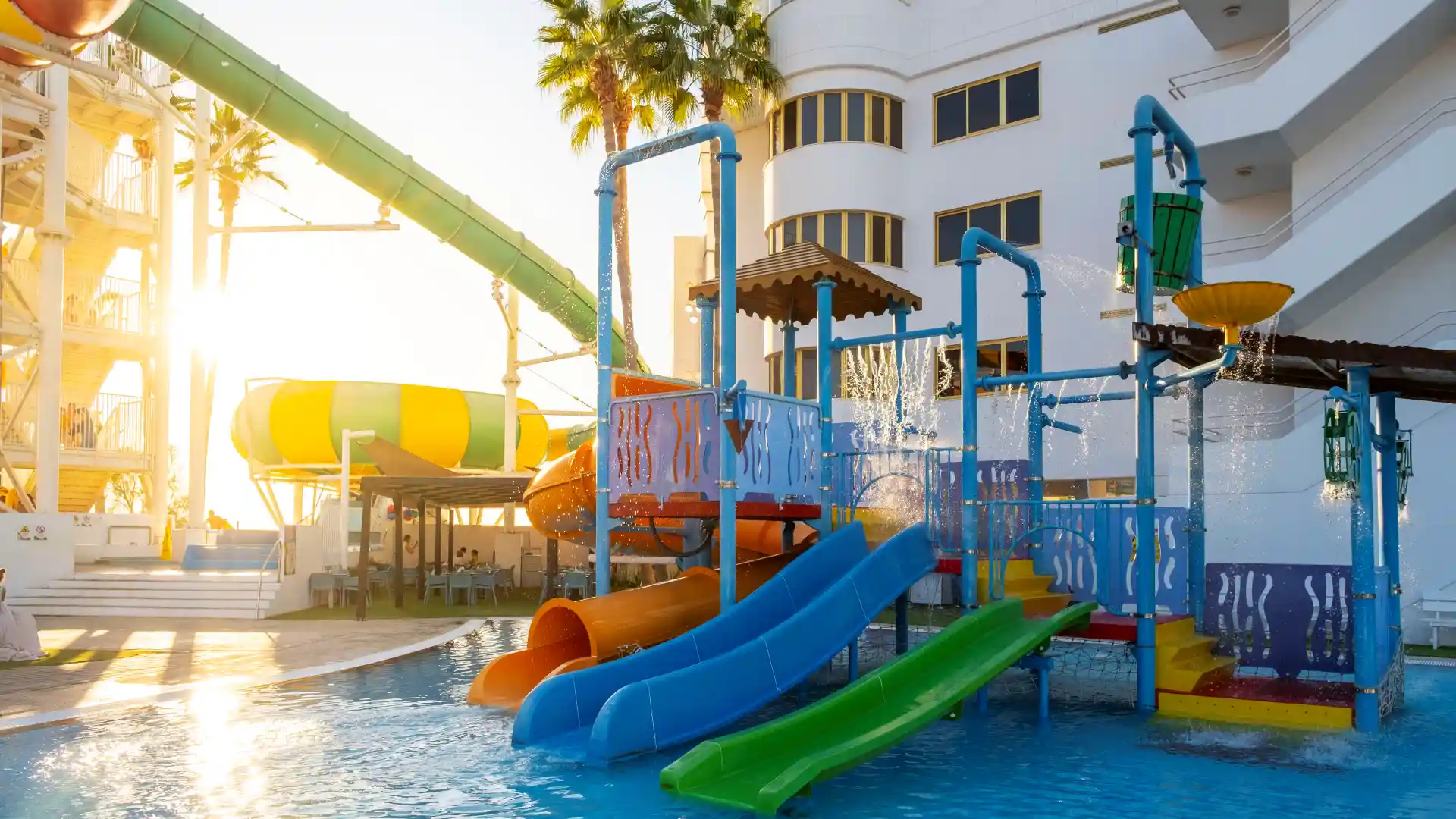 Especially for Children
Because Laura Beach & Splash Resort is eminently family-friendly, our youngest guests will enjoy all kinds of activities designed to both educate and entertain. Out of the six pools of the resort, two are designed for little swimmers. Sure, the Splash Waterpark is always fun for kids, but, besides it, we have a candy shop, age-appropriate daytime and evening entertainment, cinema, mini disco, games, and an adult-supervised mini-club. With such a broad choice of things to do, children at Laura Beach & Splash Resort will enjoy their island holiday in a fresh and exciting way.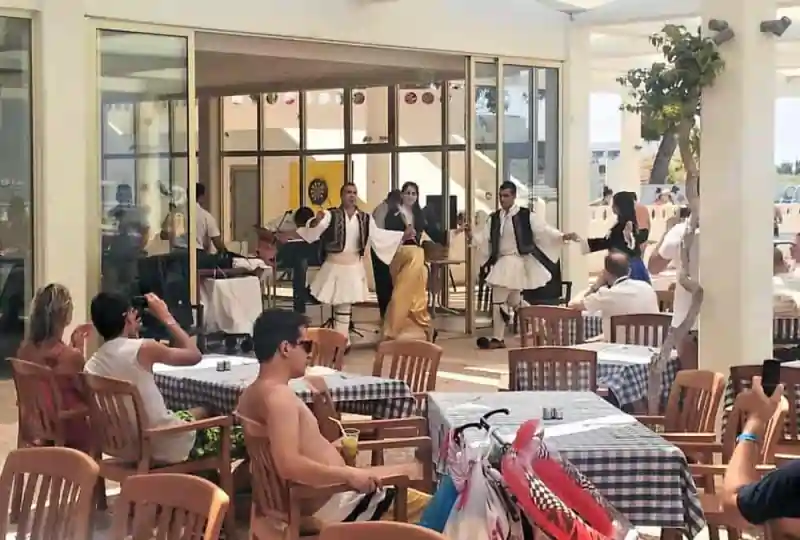 Animation & Entertainment
Laura Beach & Splash Resort is not just about fun at the waterpark. The range of activities offered to keep you entertained every day is rich and diverse. We offer a weekly programme of live entertainment, including Greek and Cypriot dances, musical performances, DJs, and cabaret shows. Our cinema screens international blockbusters and what's more fun than showing your vocal skills with karaoke? We have bingo and quizzes, plus many other surprises every week. An innovative addition to our entertainment programme, the family-friendly Escape Games feature an hour of interactive tasks where players are locked in a room and they must team-up to recover secret codes, messages, and clues to… well, escape the room before the 60 minutes are up. The Escape Games are a fun activity for stag or hen parties, for team building, birthdays, and many other creative events.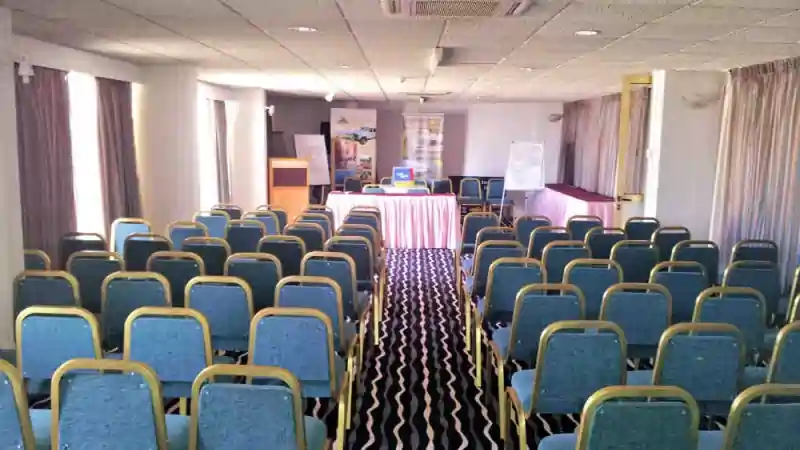 Business & Pleasure
A unique and inspired venue for your meetings and conferences, Laura Beach & Splash Resort allows you to easily combine business and pleasure. We offer a variety of indoor and outdoor spaces that take advantage of the beauty of the land, as well as catering for your events. Our events coordinator is always happy to arrange meetings and conferences with breaks for snacks, coffee and lunch that are ideal for the all-inclusive guest or visitor too.