Kids Activites
An exciting destination for families with children, Leonardo Laura Beach & Splash Resort enjoys an incredible setting, about 100 meters from the beach. Ample gardens frame the whitewashed buildings of the property creating the magical Mediterranean background that makes your island vacation truly memorable. The resort provides enthralling activities for the younger guests, tapping into their innate curiosity and spirit of adventure with thematic events and games, storytelling, and even food – for example, the kids' buffets at Blue Horizon Restaurant & Terrace and Mare Restaurant are always busy after hours of fun and play. The main attraction of the resort is the Splash Waterpark, which offers a variety of slides. But there are also clubs for children and for teens, as well as indoor and outdoor playgrounds, and three out of the six swimming pools of the resort are designed for the little ones. For example, the activity pool offers slides and sprinklers for children supervised by an adult guardian.
Leo's Small Children Mini Club
Designed for children ages three through eight, the Small Children's Mini Club offers a supervised programme with educational games and activities. An animation team prepares different themes to entertain the little ones every day. There are age-appropriate shows, games, immersive and adventurous competitions, face painting, arts and crafts, and many other surprises. After hours and hours of exciting games, the children's dinner buffet draws the youngest foodies at Leonardo Laura Beach & Splash Resort with healthy and local treats and kiddie favourites.
Leo's Pre-teens Mini Club
Children aged nine through twelve have different needs and interests, so their Mini Club is designed accordingly. Under adult supervision, the kids play games, draw or paint, learn a variety of crafts, and enjoy other activities that inspire creativity. They have indoors and outdoors play areas, they can splash around in the pool, and the animation team performs all kinds of enlightening and diverting shows for their viewing pleasure. For dinner, the children's buffet at Blue Horizon Restaurant & Terrace has all the right foods to please their taste buds.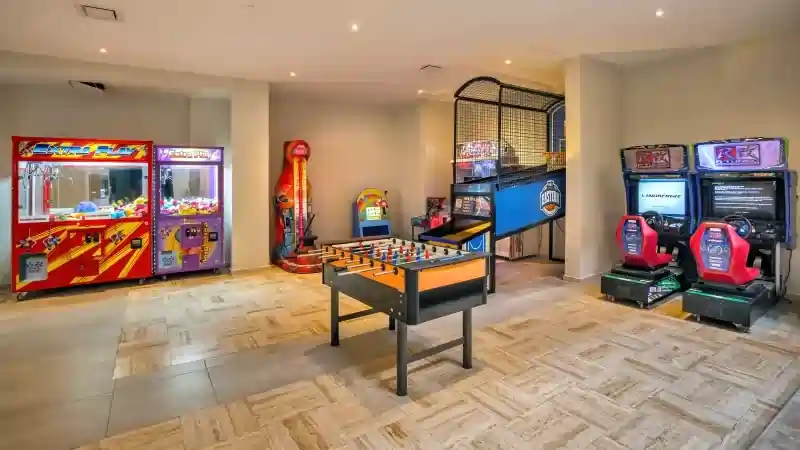 Funtasy Arcade
One of our most exciting spaces, the Funtasy Arcade draws dedicated gamers with a range of challenging and entertaining video games. Kids and adults alike will enjoy playing the games, which awarding incentives like points and prizes. The Funtasy Arcade offers high-speed Wi-Fi too.
Notes:
Charges apply for the Funtasy Arcade games.
High speed Wi-Fi is free.